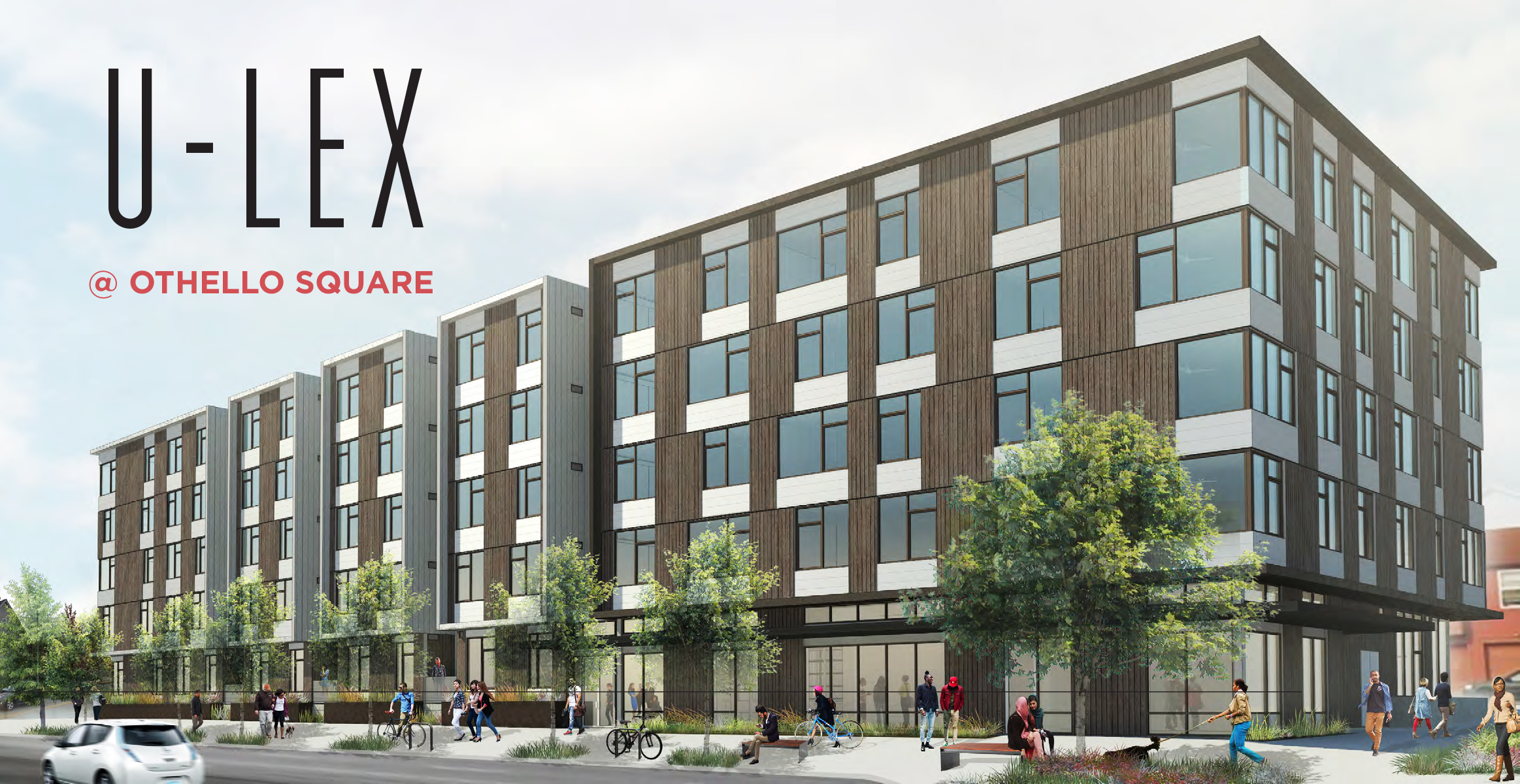 HomeSight is developing a limited-equity, residential housing cooperative at Martin Luther King Jr. Way South and South Holly Park Drive in South Seattle's Othello Neighborhood.
All 68 units are affordable to families earning 80% Area Median Income or less at the time of purchase.
To be eligible, purchasers must have a household income 80% or less than area median income by household size and be first-time homebuyers or not have owned a home in the last 3-years.
Interested in Cooperative Housing at Othello Square?
This 5-story mixed-use residential development will have 25 one-bedrooms, 35 two-bedrooms, and 8 three-bedrooms, underground parking, bike storage, and unit storage spaces. All units will be equipped with water and energy efficient fixtures and appliances including in-unit washers and dryers. Eight of the residential units are located on the ground floor along with one commercial unit and a central courtyard connected to interior amenity space equipped with a kitchen and a large multi-purpose space. There will also be communal sun decks on the 2nd and 4th floors.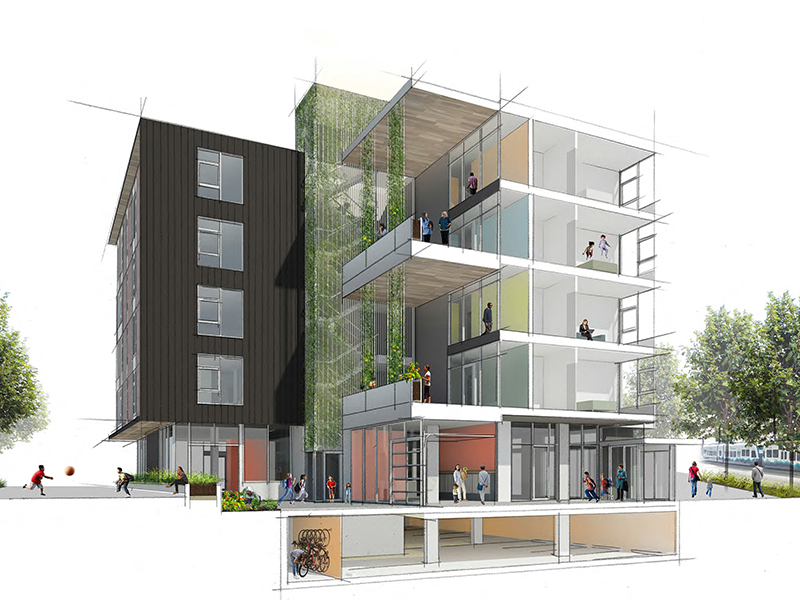 Neighborhood: Othello
A diverse, multi-cultural community
Burgeoning "Main Street" along Martin Luther King Jr. Way South
Othello Park
Grocery store
Retail
Restaurants
Sustainability
Water conserving and energy efficient appliances and fixtures in all residential units. 

Rooftop solar panels will generate renewable energy and the net metering credits received will help lower unit energy costs.  

Easily accessible walking neighborhood

Bike trails 
Located one block from Othello Light Rail Station for quick access to downtown and other urban neighborhoods via Link Light Rail and King County Metro bus services 
Amenities
Secure garage parking (limited)
Bike storage
Efficient elevator
Open, flexible floor plans
Abundant natural light
In-unit washer/dryer
Urban gardening opportunities on the communal shared sun decks
High-speed internet provider choices
Opportunities to gather and build community with neighbors
Ground floor resident community space with full kitchen connected to communal outdoor gathering space fronted by quiet street
One block from Othello Light Rail Station
Community
The Othello neighborhood has been identified by the City of Seattle as a Residential Urban Village whose residents are at high risk of physical displacement. This project has instituted a community preference policy to address residential displacement occurring at Othello. Any applicant who is currently a resident of, is a former resident (includes family member) of, has community ties or utilizes community services in the neighborhoods listed below and is an income-qualified first-time homebuyer would receive community preference for a unit in the building. 
The list of neighborhoods and the associated census tracts (Please discuss the list of Community Preference Verification documents and confirm with your certified Homeownership Counselor if you qualify):
Central Area / Squire Park (77, 79, 87, 88, 89, 90) 
North Beacon Hill / North Rainier / Mt Baker (94, 95, 100.01, 100.02) 
Columbia City / Beacon Hill (101,103, 104.01, 104.02, 111.01, 111.02) 
South Beacon Hill / New Holly (110.01, 110.02, 117) 
Rainier Beach (118, 119, 260.01) 
50% of the units, evenly distributed by Bedroom size, must go to qualified applicants with community preference. 
Equitable distribution of units 
All interested buyers must complete the HomeSight Program and verify household income eligibility (80% AMI and below). Once eligibility is confirmed and refundable reservation fee is paid applicant will be added to the pool of approved income qualified buyers. 
2 months prior to construction completion each applicant will be assigned a number for blind drawings based on the community preference policy and number of bedrooms needed. 
The U-lex Name
ʔúləx̌ (U-lex, pronounced oh-lew) means "gather" in Lushootseed, the language spoken by the Coast Salish tribes. The building's biophilic design honors the land and the name is in honor of the Coast Salish people who were its stewards.
What is a co-op?
A housing co-op can come in many different shapes and sizes. The primary difference from other types of housing ownership is that the buyer is buying shares in a corporation. The corporation owns the building and land, and all the members of the co-op are homeowner shareholders in the corporation with each household having an equal voting right. The co-op is run by a board selected by popular vote of the co-op members. Your number of shares in the co-op will depend on the size of your unit.
What is the first step to buying a co-operative home at Othello Square?
The first step is to contact HomeSight's Homeownership Center here and start the eligibility process by providing financial information. The Homeownership Center staff will work with you to determine if you are under the income limit for our program and can afford the monthly housing cost of the unit within program guidelines. They can also work with you to evaluate your credit profile and assist you with creating a sustainable budget. Once you have completed the process and have been determined eligible you will be placed on the purchase ready list.
Once eligibility is confirmed and refundable reservation fee is paid applicant will be added to the pool of approved income qualified buyers. 
2 months prior to construction completion each applicant will be assigned a number for blind drawings based on the community preference policy and number of bedrooms needed. 
What is the income qualification?
Prospective buyers' household incomes must not exceed 80% of area median income. Currently in Seattle that means the annual gross income for a 1-person household cannot be more than $64,790, a 2-person household $74,050, a 3-person household $83,300, and a 4-person household $92,560. Median income is adjusted each year, so the limits may be higher by the time the project is completed.
How do you decide who will get priority to buy a co-op home share?
A primary list of buyers who have completed all the readiness steps and have been pre-approved as income eligible buyers will be maintained by HomeSight. Once eligibility is confirmed and the reservation fee is paid applicant will be added to the pool of approved income qualified buyers. 
2 months prior to construction completion each applicant will be assigned a number for blind drawings based on the community preference policy and number of bedrooms needed. 
How is the co-op home share price calculated?
Share prices are set based on the square foot size of your unit (one share = one square foot). Currently share purchase price is set at $86 per square foot.  The smallest 1BR is 579 sq ft and the largest 3BR is 1,017 sq.ft.
If I do not have the cash for the share price, is there a loan available?
A share loan program will be created to assist in financing a portion of the share price. The details of the loan program have not yet been finalized.
What is the minimum amount that I must provide from my own funds?
The minimum cash that you have to put into the share purchase is 20% of the share price. You will also be required to demonstrate that you can save up to 3 months of payments. Showing your ability to save the monthly payments will be part of your action plan developed with HomeSight's Homeownership Center.
What can I do in my unit? Can I make changes to the unit?
You are allowed to make minor changes such as painting the walls and changing faucets, toilets, etc. Any changes that will involve and/or result in structural changes (for instance opening a wall, floor or ceiling); require a permit or authorization from Seattle Building Department; or create noise, vibrations, smoke or odor, which could interfere with the rights, including the right to quiet enjoyment, of other residents of the Building will require written Co-op Board approval before work can be started.
You are required to maintain, repair, replace, and in all ways keep in safe and good condition and working order, all walls, floors, doors, windows, plumbing, heating and electrical fixtures and all appliances in your unit.
Who takes care of the building and property?
A HUD-approved property management company will manage the building operation. The property manager will be responsible for taking care of all the areas outside of your unit including lawn care, collecting monthly maintenance and building carrying cost fees from co-op owners, paying co-op bills on behalf of co-op owners, keeping the co-op's financial records, helping to make sure co-op owners are following co-op rules, and assisting the co-op board to prepare the annual co-op budget.
What is the difference between the building carrying cost fee and the maintenance fee?
The maintenance fee is used to cover common shared building expenses such as garbage, water, landscape maintenance, etc. The building carrying cost fee is used to make payments on the building's blanket mortgage.
What are the expenses that the maintenance fee doesn't cover? 
The building carrying cost fee should remain at a fixed amount for the term of the building's blanket mortgage loan (typically 30 years). The maintenance fee will be adjusted as deemed necessary by the board. You can expect the maintenance fee to increase with inflation, currently between 2% and 3% per year as the cost of services, labor and materials increases.
Can I rent my unit?
The Bylaws is the governing document that spells out the rules for the co-op. The purpose of the co-op is to provide affordable residential ownership to income qualified families. Renting your unit will be prohibited.